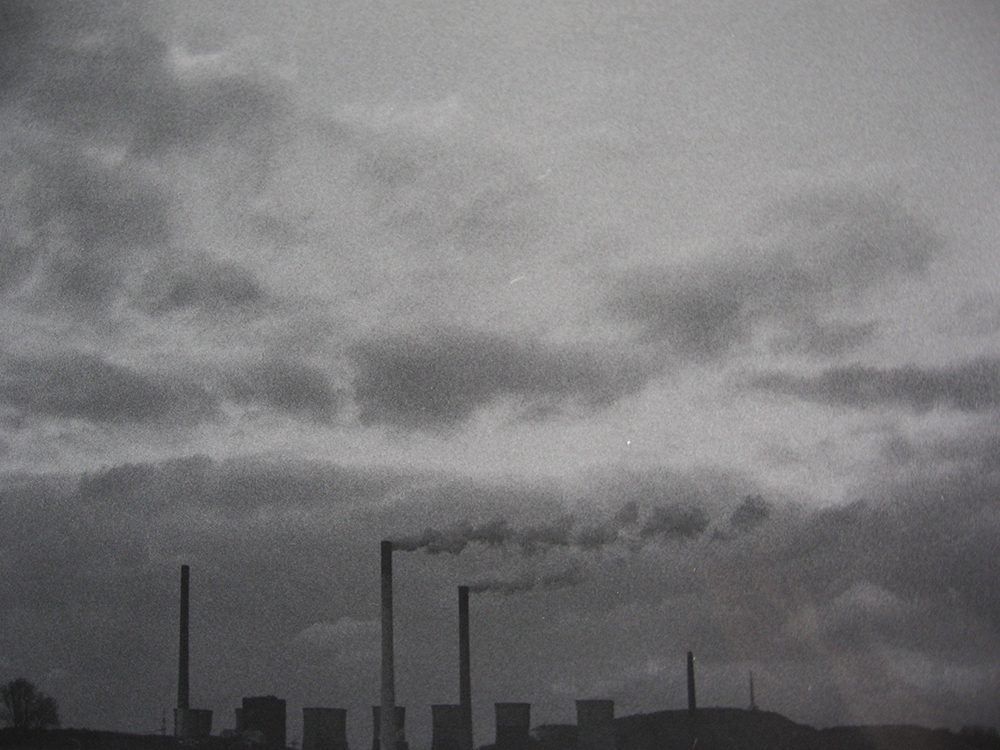 Im Landschaft zu Hause, analogue photography, 2003
Marika Angelika Wanders, 1974 (DE/NL)
Born in Gladbeck, Ruhrgebiet, Germany
Based in Amsterdam
Content
Landart, site specific and indoor installation, sculpture, photography, ink /crude oil painting
Natural and manufactured objects are placed without hierarchy in an unifying setting. The human need is featured in transitions of nature in which the scenery functions a useful temporary decor.
Statement
For me the importance lies in approaching land during my journeys over sea. Then I connect with earthly matter. I like to refer to what David Bohm writes in Wholeness and the Implicate Order: "Even while considering the needs of mankind he tends to regard humanity as separate from nature, and so on." In my actions I seek for oneness with myself and my surrounding environment. But it feels as if I am in a theatrical play.
Education
2009/Gerrit Rietveld Academie, Amsterdam (NL) – (BA) Fine Art
2006/Maritime School, Enkhuizen (NL) – (BA) Certificate Chief Mate/Captain
1998/University of Applied Sciences, Utrecht (NL) – (BA) Physiotherapy
Publications
2017/ Parool – Sept 13th, page 33. Art in public space, Amsterdam
Installation, 4 x 5 x 8 m., Wapenschild van sokken; landscape of socks
2017/ Amsterdam-Oost, 11/17, page 15. Art in public space, Amsterdam
Installation, 4 x 5 x 8 m., Wapenschild van sokken; landscape of socks
2016/ Mister Motley – reportage June – Art & everyday life – Verweesde vondsten, Gouda
2011/ Metropolis M – Issue No6 – Review on conference: Cinema Clash Continuum, film as fetish, production managed at the Gerrit Rietveld Academie, Amsterdam
2008/Art in Public Space, 12/ Projects in De Ronde Venen, Green Hart (NL)
Chapter: 'The Pastor', sculpture, Waverveen
Exhibitions
2017/ Art in public space, Amsterdam
Installation, Wapenschild van sokken; Landscape of socks
2016/ Artist in residency, Art Gouda, exhibition June, Verweesde vondsten
Installation of objects, collaboration with Golda Archeological Archive
2013/ Solo exhibition, Rijkshemelvaart, Amsterdam
Archaeological installation, collection of industrial and natural materials
2011/ Open studio, invitation by Lectureship Rietveld Academy, Amsterdam
Archaeological installation, collection of plastics; and
'Water level', installation of water circulating, influenced by altitude
2010/ Group exhibition, Noord-Holland Biennale, PUSH, R.C. de Ruimte
'Water level', video-/sound installation: ballast ship is emptied while waterline ship changes
2010/ Art in Public Space, 'De Piramide van IJmuiden', R.C de Ruimte
'Slabcar', sculptural installation of a car that catches and purifies rainwater
2009/ Graduation show, Gerrit Rietveld academie, Amsterdam
'Metal shafts', installation, video projection
2009/ Group exhibition, Rietveld in de Oude Kerk, Amsterdam
'Pastor', sculpture, bitumen and rubber
2008/ Art in Public Space, group exhibition, KultFlux, Vilnius, Litouwen
Installation, wooden beams move simultaneously in Neris river
2008/ Art in Public Space, group exhibition, ARTWALK, Amsterdam
Installation, materials are re-used from houses being renovated
2008/ Group exhibition, Volkskrant building, Amsterdam
'Out of order', installation, dismantled TV in former building of a newspaper
2008/ Group exhibition, Museum de Ronde Venen, Vinkeveen (NL)
Art in Public Space, invitation to art students by Lectureship, Gerrit Rietveld Academie, Amsterdam to reflect on changes in the Dutch landscape
2008/ Art in Public Space, landscape of Waverveen (NL)
'The Pastor', sculptural installation, agricultural materials; rubber tires
Art teaching
2016/ Art teacher, Willem de Zwijger College, Bussum
2009/ Art teacher, Public Primary School, OBS, Openbare Burcht school, Amsterdam
2005 – 2009/ Art teacher, Educational Department, Van Gogh Museum, Amsterdam
Art Production
2015/ Production managed film of Christiaan Bastiaans, Pharmacy Deux Milles
2008 – 2011/ Production Studium Generale, Gerrit Rietveld Academie, Amsterdam
Interdisciplinary theoretical program for art students within a scientific, philosophic and political contemporary art discourse